Summer Hospitality Jobs in Alaska
Alaska jobs attract all sorts of people looking for adventure and fun in the summer sun. These jobs are incredible opportunities to journey north and experience the ultimate frontier that is Alaska.
The summer season is also the booming tourist season. It nicely coincides with popular vacation times for tourists, but it also is the same time as college summer breaks. There are tons of college-aged workers in Alaska looking to make a buck, meet some fellow adventurers, and have a thrill.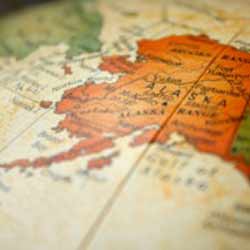 The opportunities in Alaska, between May and October, are overwhelming. You can literally work in tons of different fields from menial labor to scientific study to outdoor adventure. There are jobs for all types of people with any and all types of experience.
Here's a look at the different types of guest services, hospitality and tourism employment opportunities that may be available for energetic adventurers like you.
Lodging – Every tourist that comes to Alaska has to stay somewhere. The average tourist's vacation is a week long, so the busy tourist season keeps the hotels packed. There are hotels everywhere from the cities of Anchorage to the bush to the entrance of Denali National Park. Every hotel needs workers in food service, hospitality, guest service, house keeping, maintenance, and retail – just like any hotel in the world. The difference is that hotels in Alaska can be remote, even hundreds of miles from the closest town. As a lodging employee you'll need to be friendly and cheerful, and willing to work long hours. Many hotels also hire their own tour and nature guides. Typical hotel jobs include front desk staff, night auditor, cooks, servers, hosts, bartenders, dishwashers, bus boys, housekeepers, groundskeepers, retail sales, managers, and laundry attendants. The pay here ranges from minimum wage to $15 per hour. In some jobs you'll be making tips to help pad your wallet too. You'll work hard, but the jobs are fun and you'll make lots of friends with your co-workers – who are in Alaska for the same reasons that you are there.
In Focus: Alaska Summer Hospitality & Tourism Jobs
Alaska Tours – Many people that visit Alaska take bus and train tours that travel through the vast terrain. These tours need tour guides to narrate the adventure as it passes by the viewer's window.
You'll talk about things like the natural history, the native people, or the weather. People are always full of questions and want to learn all about where they are and what they see. And for $11 to $15 per hour, it's pretty easy work. It's a fun job that requires lots of knowledge and people skills. Your main goal will be to ensure that every guest has an awesome Alaska experience.
Summer Internships – If you're dead set on working in Alaska, you may want to intern for a year to set yourself up for your dream job. Internships are available in nearly every field, but often you'll have to ask directly if there are intern opportunities available. The experience may be all the pay you get or maybe you'll make $9.75 (Alaska minimum wage effective Jan. 1, 2017) to $13 an hour. It just depends on the internship. As an intern, you'll be able to work in a field of special interest to you, without the pressures of being a full-time worker.
Anything you do in Alaska will be a memorable experience. Pretty much guaranteed.