Traveling to Alaska for a Job
Once you land your sweet summer job in Alaska, you'll have to get to the great state. Be warned: Alaska is a long way away.
Getting there is the beginning of the adventure.
There are several options for how to get to your dream job. It may take an afternoon or it may take several weeks. You'll have to choose your mode of transportation based on cost, style, and desire for adventure.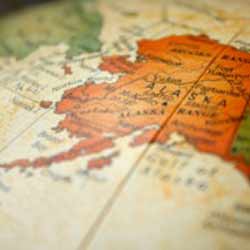 Ferry to Alaska – The Alaska Marine Highway can take you from Bellingham, Washington to many of the panhandle cities like Juneau or Ketchikan. The ferry takes about a week.
Flight to Alaska – Flights are maybe the easiest way to get to Alaska. You can fly from almost any city in the world to the international airport in Anchorage. From there you can usually get a commuter flight or air taxi to other locations. You'll usually make it within a day or two.
Driving to Alaska – This is the ultimate way to get to Alaska. And if you're ready to watch for wildlife like wild buffalo, grizzly bears, and moose on the road, you may want to drive to Alaska. The route is long and it takes a minimum of four days to drive the Alaska Highway. With gas prices rising, this isn't the most cost effective way, but it is the best way if you want some adventure. The Alaska Highway officially starts in Dawson Creek, British Columbia. Getting to Dawson Creek is an easy drive. The road travels up through the Yukon and into Alaska. If you drive, you will have the luxury of a car when you arrive, so you can travel and play on your days off. A few tips: drive with a friend or two and be sure to keep gas in your tank, as services are often very far apart.
Taking a Train – Trains are common in both Alaska and Canada, but there is currently no train that connects the two. Maybe someday.
Bus – After a series of stops you can make it to Anchorage. It's easy to get to Vancouver from anywhere by bus. Then your itinerary will take you to Whitehorse in the Yukon and finally to Anchorage. It's a long trip and you better hope your seat partner doesn't have stinky body odor.
Once you've arrived in Alaska, you may have to get to remote locations for your job. For instance the big national parks – Glacier Bay, Wrangell-St. Elias, or Denali – aren't exactly right next to an international airport. You may need to take a train, air taxi, boat, or bus to get there. Be sure to check with your employer on the best way to get to work and be sure to look at a map before you leave the Lower 48. You don't want to get lost.